APM Solutions was forged through real life experience and the daily pressures of managing a large multi-site anesthesia practice with hundreds of providers.
Unsatisfied with the cumbersome functionality and cost of stand alone off-the-shelf software solutions, we took the bold step of creating an integrated enterprise management solution designed to service the needs of practice managers, clinicians, hospital administration and credentialing specialists. With great intent and forethought, our holistic, internal and external user-focused application for scheduling, credentialing, CRM, communications, budgeting, and reporting is designed to meet the needs of multiple stakeholders in multiple sites of service in real time.
Paul W. Santoro
CEO & Founder
Paul began his career in anesthesia practice management in 1988 when four years out of training he was put in charge of day-to-day operations of a large Level One trauma center in Detroit.  Influenced greatly by the just-in-time inventory management philosophy of the automotive industry at that time, there were many lessons learned regarding the flow of necessary and specialized resources to the right place at the right time.  In 1993, Paul founded Anesthesia Staffing Consultants and was wholly unsatisfied with the difficulty in integrating existing off the shelf functionality in a 30,000 foot multi-site view necessary for executives while maintaining the necessary granularity for front line managers, he led the charge to create APM Solutions, the first scheduling, credentialing, communications, payroll and business analytics platform of its kind. While APM has its roots in the anesthesia practice management space, it's customizability serves any business which deploys specialized resources over multiple sites of service in varying geographies.  As a serial entrepreneur, Paul is always on the lookout for innovative solutions and operational efficiency.

Dina Velocci
Vice-President of Client Success
Dina brings her front-line perspective to APM Solutions, providing valuable insights from her 18 years as a Nurse Anesthetist and 14 years as a clinical and didactic instructor for Nurse Anesthetists. In the past, she's supplied anesthesia services for office-based practices and free-standing surgery centers, and assisted in building and marketing an interactive and engaging web-based learning resource for Nurse Anesthetists.
Michael Weinberger
Chief Technology Officer
A serial entrepreneur, Michael is APM's chief architect and system developer. He draws on his medical service industry expertise to improve the speed and accuracy of on-boarding key business data. Michael is passionate about creating integrated solutions that help disparate systems communicate efficiently with one another.
Paul Doerr
Vice-President of Product Development
Paul joined APM Solutions, LLC in January 2018.  Previously, he worked for Amazon where he managed unified communications for the Detroit technology hub.  Prior to that, he was the lead for technology fulfillment for Meeting Tomorrow where he managed the company's top nationwide events.  Paul strives for flawless execution and exceptional customer experiences. He has a passion for project management and believes there is an art in building technology that can boost productivity, improve collaboration, and make our lives more enjoyable.  He is a graduate of Columbia College Chicago with a B.A. in Media Management. He has two amazing daughters, Sadie and Ruby, and is a musician and songwriter in his free time.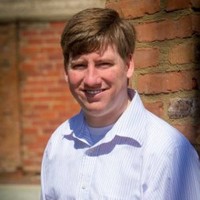 Joe Vignos
Chief Financial Officer
Joseph Vignos, while a tax and business accountant for Sallan, Nemes, Lyman and Strakovits, CPAs, joined the team at APM Solutions in October 2017. As CFO of APM Solutions, Joseph is responsible for the overall financial strategy and functions, including accounting, treasury, and company finances. He is enthusiastic about APM's new age software that will help anesthetists and healthcare providers all over the world. Joseph graduated from the University of Akron with his bachelor's in accounting. In the past 8 years, he has worked for multiple firms that focus in accounting and healthcare billing in Ohio and Michigan. He likes to spend his free time with his wife, Megan, and daughter, Adelaide.